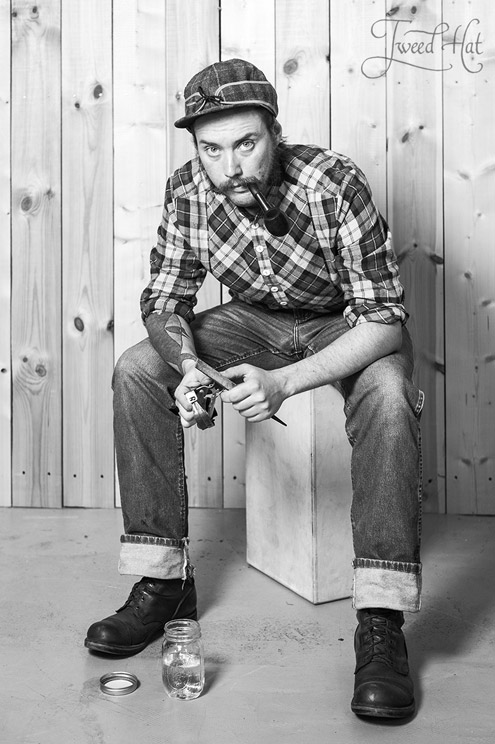 What should one wear in winter and fall if one loves baseball caps? Are there any stylish and quality winter baseball caps with earflaps? We had not known answers to those question until we learned about the Stormy Kromer brand.
The history of the brand started in 1903 when George Kromer, nicknamed "Stormy", asked his wife Ida to make a warm cap for him that could not be torn from his head by a strong wind. For a long time, George was a railroad engineer, and the problem was rather acute for him. If the engine moved fast, strong gusts of wind stole his headgear regularly. George also played baseball semi-professionally, so the basis for the cap cut was a classic baseball cap, but with its visor shortened, to decrease its windage. In order to complete the task, Ida Kromer devised an original cap earfplaps' construction. If necessary, they are lowered with a single flick of one's hand, thus providing additional warmth, stability, and protection from gusts of wind. The railroad cap was so comfortable that soon after the Kromers launched a small production, and in six years they opened their own store.
These days, the Stormy Kromer headwear are comfortable, quality, beautiful, and original objects with history that suit both active leisure fans and urban dwellers who prefer nice-looking, practical, and warm caps.
The preferred materials are traditional and natural, like wool, flannel, and waxed linen. The company is so sure of the quality of their caps that offers a lifetime warranty for them, on the condition of their correct use. Every cap has its own unique number that may be registered with the company's official website.
The Stormy Kromer caps design cannot be taken for anything else. Today, they are an American legend. Today, any other headgear can hardly be said to be a real American cap. Emerging on a railroad which is the basis for American industrial culture, these days they are manufactured only in the middle of America, in the austere and cold Midwest, in the land of Great Lakes.
Classic baseball caps from the legendary American brand Stetson are practical, comfortable, and are superbly made. In our store, the ones are represented made of dense and durable cotton, in eight colors, and of elegant fine linen, in two colors.
In our online store and Kitay-Gorod show room you can buy Stetson caps in military style, based on their historic prototype, the American army cap M-51. They are made of the durable cotton fabric in black and green.