The Tweed Hat Show Room in Downtown Moscow
Our address
Moscow, Metro Kitay-Gorod,
Maly Zlatoustinsky Alley, 6, Bldg. 1B, through the arch, entrance intercom 5.
Operating hours:
Monday to Friday, from 11 am to 8 pm,
Saturday and Sunday, from 12 noon to 8 pm.
We are glad to invite you to our show room where you can see and try on everything that we have. It is just a four minute walk from the Kitay-Gorod metro station, Exit 5 to Maroseyka Street.
How to find us?
The way from the Kitay-Gorod metro (Exit 5) is shown on the map below. At the 6, Maly Zlatoustinsky Alley, Bldg. 1B, you have to find a large arch entryway with black iron gate and golden wicket. The intercom is to the right of it. Press 5, with a small brass plaque near it, saying "Tweed Hat". After the beep pull the gate. You need to go through the arch and turn sharp left. Enter the building and follow the pointers to our door.
We shall be grateful if you find some time to give us some feedback on the Tweed Hat locations on Yandex and Google Maps.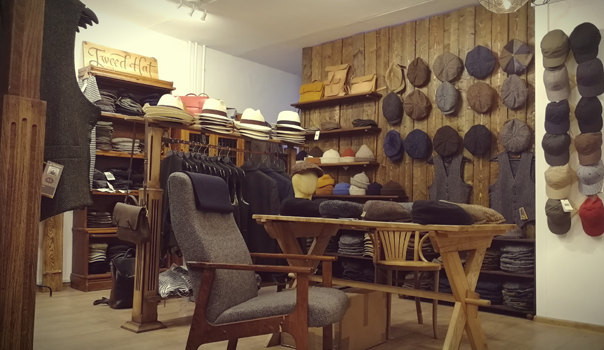 Are there any questions not answered on our website?
Please write to mail@tweedhat.ru.
The most current news, and the info on new items in our stocks are first to appear on our pages in social networks, so please join us!
If you have any questions or you want to sign up to visit showroom, please, send us an e-mail to this address: mail@tweedhat.ru.
---
Quite close to us, near the Mayakovskaya metro station, there is The Boys, the store for the high-quality Italian men's clothing.
The prices are honest, the articles are worthy. Highly recommended!