Our philosophy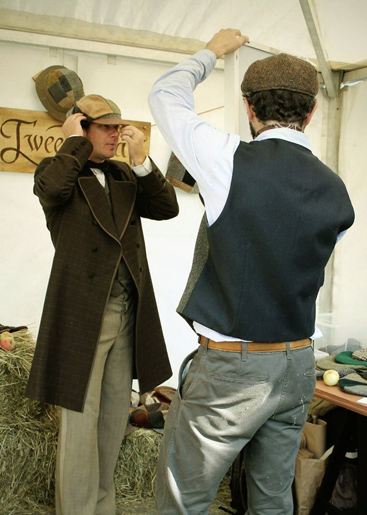 We believe that clothes influences a person's world a lot.
One of the troubles with our cities is that if you look at a streetful of people from a great height it would be uniform black-gray. Especially, it is noticeable in a cold season.
This poor color palette reflects the fact that the urban fashion is still set by successors to flea markets. Despite the fact that many city dwellers have recently started dressing in decent outlets, public tastes in outdoor clothes change very slowly.
The combination of the endless stream of black coats and hats with urban dwellers' morose faces creates a far from being very kind portrait of a city. The situation can be changed. And we could do it, trust us. We have not jumped to this conclusion all of a sudden. We have come a long way through the thorns of trends and fashions, waded through waters of subculture styles. Like all signature events if life, tweed hats appeared in our life by chance. Yet at the same time, it was logical and natural for there is no blind chance, we are sure of that.
After setting on our heads, hats and caps attracted a lot of questions from our friends in the many months of walking through Moscow, as well as smiles and attentive stares from passers-by.
Later came the Moscow Tweed Ride 2012 in Sokolniki, a very special kind of event where we found the culture of wearing tweed clothes which was new to us. Plus, our patchwork walking hat from Hanna Hats won one of the three prizes for the best accessory.
So we decided that the time was now! You have the result of our actions in front of you.